RAIN, RAIN GO AWAY !
Parapluie, Bumbershoot, Parasol .....whatever your preferred moniker, is an Umbrella by any other name. I am a fan of good protection from the rain and the sun, and we get a lot of both here in Southern Florida.
As for the sunlight....a little is healthy, but a lot....quelle horreur !
Umbrellas are employed as sun shades for beach goers, golfers and baby strollers. They come in all sizes from pocket-size to beach size. They come as sticks, pop-outs, cane-handled and carved. Their canopies can be solid, striped or patterned.
We all know that rain is great for our landscape, but not so much for our freshly coiffed hairdo. Of course we all know that to carry your umbrella is to ward off the God of rain. However, during our rainy season, even that will not avert the torrents.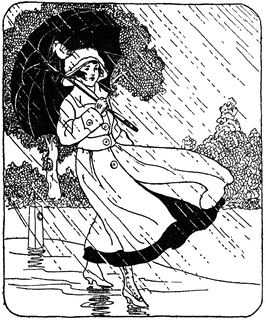 Every year, our Boutique stocks several styles of umbrellas for those unfortunate shoppers caught in a downpour. Of course, we would rather they stay and shop until the storm is over, but in any case, we do have some stylish options for those that must take leave.
Bernard Maisner makes beautiful silk-screened covers on curved, wooden-handled sticks. The canopy pops out with the push of a button (a real treat when you are fumbling with purse, keys and packages). We have his "Love" design on Cabernet and "Let it Rain" design on mauve in stock.
Sportier in style, and new this year, are the adorable animal-silhouette umbrellas. They come in an array of colors with contrasting silhouettes of many dog breeds, cats, horses and several wild animals.
Silhouette umbrellas also come with an easy-open push button.
We also have a bucket full of kids styles from one of our favorite French companies, Vilac. No matter how many we order each year, we can never have enough. There are pink cats, Nemo-looking fish, dogs and frogs to name a few. What a great little present for the puddle jumper in your life.
So next time you stop in, grab a Parapluie, a Bumbershoot, a Parasol.....an Umbrella, and protect yourself from the elements....be they rain drops or the sun's rays.
XOXOXO,
LETA